The Lake Taupo region has some of the country's finest untouched, uncrowded and unique landscapes dominated by the mountains and the lake. The most violent volcanic explosion the world has seen in the last 5000 years created the lake itself.
Today Lake Taupo is the largest freshwater lake in Australasia and is home to a bountiful trout population. 47 rivers and streams are feeding the lake with only one outlet, the Waikato River. Experience some of the best trout fishing in the world. Take a real New Zealand adventure and hire a guide to explore some of the crystal clear streams and rivers of the region.
Tongariro World Heritage National Park is home to three magnificent volcanoes Mt Ruapehu, Mt Tongariro and Mt Ngauruhoe (easily recognized by film fans as "Mt Doom" in the Lord of the Rings"). View these impressive mountains from above on a scenic flight or get up close and personal on what is considered one of the best one-day hikes in New Zealand, the 17km Tongariro Crossing.
Throughout winter Mt Ruapehu's award-winning Turoa and Whakapapa ski areas open. Ski a combined 1800 hectares of groomed snow, or go off-trail on guided heli-skiing experience. All year round the lake is a focus for water activities, water skiing, parasailing, floatplane flights, jet boating, white water rafting, kayaking, jet skiing and skydiving. Taupo town is on the edge of the lake offering all these activities and more. Head inland for 4×4 motorbiking, horse trekking, bungy jumping, rock climbing and abseiling. Just minutes north of Taupo is Wairakei Terraces with boiling mud pools, thermal valleys and steaming geysers. Or enjoy the ultimate health experience in natural mineral waters
Taupo is also home to some world-renowned golf courses on which to improve your game … as long as you can hold your concentration in these stunning surroundings.
Golf
Trout Fishing
Geothermal wonders
Huka Falls Jetboating
Kayaking
Tongariro Alpine Walk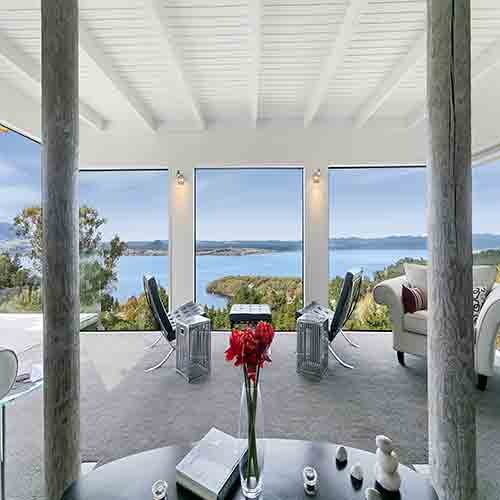 Stay at the chic and luxurious Acacia Cliffs Lodge nestled on the hills above Acacia Bay with stunning lake and mountain views.
Indulge in luxury at The Point Villas located in a Private Estate on the northern shores of spectacular Lake Taupo, your private swimming pool to relax and surrounded by native bush with views to the lake and mountains.