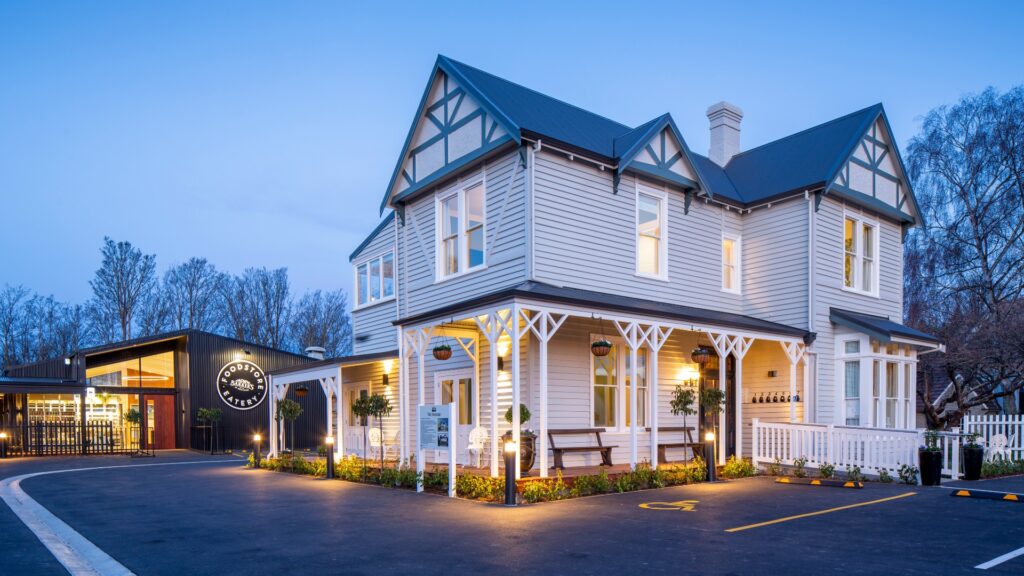 New to our boutique collection, this simply gorgeous heritage building has been lovingly restored into luxurious accommodation right in the heart of  the pretty township of Geraldine.
 
The Vicarage has a self-check-in arrangement with a drop box containing your room key – a code is provided prior to arrival.  Complimentary parking onsite which made it easy to carry our bags to our gorgeous bedroom located on the first floor.
 
6 luxuriously appointed bedrooms have been decorated with unique Cole & Co Fornasetti Monkey Wallpaper which adds a fun touch to this heritage property.  Our bed was so comfortable we didn't want to leave.  Each bedroom has a TV with Chrome-cast, Nespresso Coffee Maker, electric jug, cutlery, crockery glassware. The ensuite bathrooms are furnished with delicious fluffy bath sheets and luxury toiletries. We also enjoyed the complimentary bottle of wine waiting in our refrigerator. The bedrooms have been named after Vicars who have resided here and you'll discover some interesting reading in the sitting rooms on these colourful characters.
 
Each floor has a sitting room where guests can relax. A well- appointed kitchenette with twin induction hobs microwave and toaster giving the option of eating in, or a light breakfast. But you'll want to dine out at the local restaurants and cafes – The Vicarage is located right in the heart of town. And the adjacent Barkers Food Store offers a wide selection of delicious cuisine for breakfast, brunch or lunch. It's just a 50 metre walk across the carpark from your accommodation.  We've eaten both breakfast and lunch here and came away stocked up with delicious Barker's goodies to take home. Geraldine is just a 1 hour 30 minute drive from Christchurch or a 30 minute drive to Timaru
 
There's so much do –   Tastings at Geraldine Cheese, Humdinger Gin,
                                      Barker's Foodstore & Valley Brewing
                                      Art exhibitions at numerous galleries
                                      Walking tour of Geraldine
                                      Talbot Forest native bush walks
                                      A Day Spa offering a wide range of treatments

and for a little more adventure – 4WD tours up to the Rangitata Gorge and into Mesopotamia Station, or via the Ashburton Lakes to visit
Mt Sunday which was Rohan's City of Edoras in the Lord of the Rings                                              
To wrap it up – this is one delicious hidden gem – a touch of luxury in a town which may not have even been on your radar. Our recommendation is – go – explore – you'll be impressed.   
www.thevicaragegeraldine.co.nz                 
. 
 
.